Memorandums
"Earth's Mightiest Heroes" is shutting its doors here and moving to a different host. The new site can be found HERE. The admins want to thank everyone who made EMH amazing and gave us wonderful memories and fantastic rp adventures. We hope to see you on the new site! Members can still log in and get their stuff if they need.

To our wonderful affiliates: we will be re-adding you on the new site. Please bear with us :)

shot through the heart & you're to blame
DARLING YOU GIVE LOVE A BAD NAME
- - - - - - - - - - - - - - - - - - - - - - - - - - - - - - - - - - - - - -
How glorious it was to have a night off again! But not just a night off, because those happened quite often and although they made for good sleep-catch-up, they still rather sucked because her evening was still controlled by a tiny gadget attached to her hip with an annoyingly shrill beep. But tonight was different. Tonight Sveta didn't have to be on-call. The pager, ruler and dictator of every personnel in the medical field, got to be stashed away; hidden and forgotten, if only for a night. The night belonged entirely to her and Sveta could do whatever she wanted with whoever, without having to worry that she might have to drop everything at a moment's notice just because someone's appendix was about to burst. It was absolutely wonderful.
Lionheart had been her first stop of the night. Svetlana could totally understand why the place was Tony Stark's pride and joy; the place was absolutely beautiful. The entire restaurant floor had floor-to-ceiling windows, allowing patrons a 360 degree view of London while they dined. Sveta had spent a good portion of her time there just looking out at the gorgeous London nightscape, sipping on cocktail after cocktail of delicious cocktail and flirting with the handsome bartender inbetween him serving the other patrons. Sveta would certainly have to ask Tony to transfer him over to the SHIELD Bar; not only was he a nice piece of eye-candy, his cocktails were to die for.
But sitting at a glamorous bar sipping cocktails all night was not how Sveta wanted to spend her night. She wanted fun and excitement! She wanted to meet new people, wanted to drink and dance until the wee hours of the morning. And Lionheart was not a place where that would happen. Not unless she convinced Hank to leave right now with her, but that was hardly going to happen. Which was exactly why after finishing her cocktail, the brunette had gone to find herself a random club to spend the night at.
Leaning with her elbows against the bar and a smile playing on her lips, Sveta watched the night life in the club. Groups of girls sat giggled away to themselves at tables, guys flirted with girls, girls flirted with girls, couples danced away like the DJ was playing his last song...
Wait, are they doing body-shots?!
Excellent. Definitely Sveta's type of place. Taking out her phone, she scrolled through her contacts, wanting to find a friend for tonight. She stopped at Patience's number and a slight smirk crossed her lips. Her fingers flew over the keypad as she composed a message.
'Come out with me tonight. First round's on me. I expect you here in 20 ;P'
. Message sent, she settled back, taking another sip of her cocktail and watching the crowd.
NOTES I promise she'll behave. Ish.
TAGGED Patience
OUTFIT Outfit, camisole under top (so it's not like too much cleavage), necklace, boots, purse.
CREDITS  You Give Love A Bad Name - Bon Jovi ~ Template by Doe-Eyed Harlot of Caution.
___________________________________________________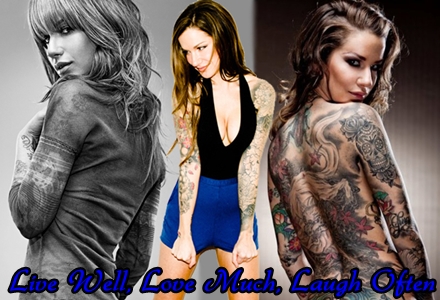 Patience was in her quarters after a long day filling out paperwork and resisting the urge to murder some of the more annoying rookies. Oh how she wished to murder some of them, they were getting more and more annoying by the day, ever since Maria took a vacation, these rookies got braver, Patience swore that she really needed to start killing a few rookies to set a proper example to these rookies. It was truly a stressful day, at times Patience thought that maybe she should take some time to relax and head into a bar for a drink, but every time, Patience decided against that idea every time, she could not afford to get drunk, not with all the secrets in her brain. Especially the HYDRA related secrets, if anyone found out, they would be alot of trouble and death on the horizon.
Patience was bored out of her mind, planning the death of rookies and mentally filling the paperwork that would follow after the
accidental
deaths. She was already beginning to choose the rookies whom were going to be on the chopping block when her phone beeped. Patience took a look, Doctor Svetlana Orlova had sent her a text. Patience knew Svetlana from their mutal friend Maria Hill, so what does Svetlana want, Patience wondered as she opened the text. When she opened the text message, Patience frowned once she finished reading it, really? A bar, and you are inviting me? Okay Svetlana is definitely drunk, best get her out of there before she makes a mockery of SHIELD.
Patience quickly changed out of her sleepwear and grabbed a coat as she rushed out of her quarters and to her car. While she ran to her car, she texted back
"Stop drinking this instant, I am coming to extract you before you make a mockery of SHIELD and leak our secrets to the world, if you want a drink, I will buy you one at SHIELD's bar."
Patience then pocketed her phone and entered her car, beginning her drive to the bar that Svetlana was at. Patience was pissed and swore that she would kill a rookie tomorrow to relive this stress.
When Patience arrived at the bar and parked her car, Patience rushed into the bar and searched for Svetlana. Once she found Svetlana, she walked over to Svetlana while giving her a death glare, if Svetlana was not her semi friend and Maria's friend, Svetlana would be a corpse right now. Patience then took a seat beside Svetlana and gave a massive frown, "Do you have any idea what you are currently doing? Do you have any idea at the security risk at what you are doing?" Patience was really pissed and was ready to strangle people right now.
shot through the heart & you're to blame
DARLING YOU GIVE LOVE A BAD NAME
- - - - - - - - - - - - - - - - - - - - - - - - - - - - - - - - - - - - - -
Finishing up the cocktail in her hand, Sveta placed the glass on the bar, nodding her head to the music. Her phone vibrated and she checked her messages, rolling her eyes at Patience's reply. Well someone obviously needed a drink or four to relax.
'Lighten up! I don't want to go to the SHIELD bar. I want to stay here. I promise on Fury's life that I won't leak a single secret. Relax.'
On second thoughts, maybe it wasn't the brightest ideas to invite Patience to a club. Sveta was under the distinct impression that neither she nor Maria had ever been to a club in their entire lives. Well, there was a first time for everything.
Her foot bounced to the beat and Sveta looked around the club, wondering why it was taking Patience so long to get her. At the back of her mind she wondered if Patience was organizing a full-blown extraction team to get her out of the club, but she pushed the thought away. Patience was uptight; she wasn't a nutter. As one song melded into the next, and the next melded into a new one after that, the brunette finally spotted Patience. She bit the inside of her lip at the blonde's expression; she did
not
look happy. As she came over, Svetlana gave her a charming grin. "Relax, it's Friday! Lemme get you a drink. What's your poison?" Running a hand through her hair, the charming grin faded only to be replaced by an easy smile. "Look, I promise I'm not going to say a single work-related thing tonight, ok? I just want to dance and have fun. I
really
don't need to be babysat. If I did, I would have texted Coulson. So stop glaring and just relax."
'What The Hell' came on through the speakers and Svetlana couldn't help but grin. Jumping off of her chair, she gave Patience a slight smirk. "If you really want to take me back, you'll have have to come get me," she stated, raising an eyebrow slightly in challenge. Next second she whirled about and began weaving in and out of the club crowd, finally managing to get through to the very center of the dance crowd. Bodies jostled up against her, danced against her. The loud music washed over her and Sveta pushed all thoughts of angry friends and work out of her mind. Some pretty redhead danced up against her and Svetlana smirked, returning the favour.
Oh Patience was absolutely going to kill her when they got back to base. Sveta's smirk widened at the very thought. It would totally be worth it.
NOTES I lied. She's not going to behave at all.
TAGGED Patience
OUTFIT Outfit, camisole under top (so it's not like too much cleavage), necklace, boots, purse.
CREDITS  You Give Love A Bad Name - Bon Jovi ~ Template by Doe-Eyed Harlot of Caution.
___________________________________________________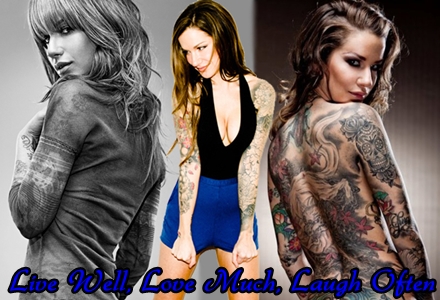 "Relax? This is your job and international security on the line, what is going through your mind? And you are still sober right now! What the hell do you think you will do when you actually get drunk?" Patience said with anger slipping into her voice, but keeping it low enough to prevent everyone around them from hearing about this. Patience swore she would kill someone once she was done here. "Coulson is off base, he is on vacation, but yes, you really do need a babysitter right now, since I am on the verge of firing you for conduct unbecoming of a SHIELD agent, I really should." Patience knew that if Svetlana was not her semi-friend and Maria's friend, there would either be a unemployed doctor or a corpse right now.

When Svetlana ran away to the dance floor, Patience rolled her eyes at the immaturity that she had to deal with right now. Best not cause a incident Patience thought, thus she followed Svetlana over to the dance floor, intending to keep her out of making a mockery of SHIELD and forcefully extract Svetlana if she needs to. Patience walked beside Svetlana and said in a serious tone, "Out, now, I will buy you a drink back at SHIELD's bar, lets just get out." Patience swore she was about to kill or fire Svetlana, but was using all her willpower not to. This is going to be a long night, rookies are not enough pain huh?

Patience also tried to dance while she was on the dance floor lest she look out of place, but Patience was a terrible dancer, all she could do was move her legs and arms a bit. Patience was glaring at Svetlana, the drink sure as hell sounded alot better than continuing this hideous dance that she was doing. Patience saw the looks of the people around her, thus she decided to give in slightly, she would control her drinking, and extract Svetlana at the first possible chance. "Okay, lets get a seat again and a drink." Patience said with a major frown and a I will kill you glare.
shot through the heart & you're to blame
DARLING YOU GIVE LOVE A BAD NAME
- - - - - - - - - - - - - - - - - - - - - - - - - - - - - - - - - - - - - -
"I'm Russian, sugar. We don't
do
drunk. Have you ever seen Black Widow drunk?" she asked with a slight smile, raising an eyebrow, knowing full well that no one had ever had such a chance and if they had, they certainly weren't alive now to blab about such things. "With all due modesty, my genes and liver are just as good as hers. And in the
extremely
unlikely case that I do start blabbing, you have full permission to concuss me, ok? But not before," she added with a grin, feeling like with the glares she was receiving, it was wise to add that note.
"Coulson is on vacation?" she asked, eyebrow shooting up even higher. Well that was news. Funny timing - just as Maria decided that she was going to go on vacation, he had suddenly gone off on his. She toyed with the thought of them having gone on vacation together, to some deserted little island to drink piña coladas under the palm trees. Nah, they'd go somewhere busy and populated. Maria hated such places where boredom was high. She was probably in Rome right now. Rome seemed very her. "Are he and Maria--?" she left the rest of the sentence unsaid, smirking at the very thought of the pair together.
About time..!
She closed her eyes at she danced, a happy smile spreading across her face. Opening on eye, her hand closed around Patience's wrist and she tugged her into the dancing crowd, ignoring the death glares from her. For a long moment she looked at Patience as she swayed her hips in time to the music, biting her lip. But next moment she averted her gaze, put on a grin and just continued dancing, chuckling as she got sandwiched between the redhead and a raven-haired beauty. Finally as the song ended and one that Svetlana didn't like as much came on, she brushed her hair from her eyes and rolled her eyes at Patience. "Will you lighten up? Seriously, when was the last time you did anything fun?" she asked as she sauntered back to the bar and sat down on one of the stools. "And by fun that does not include the maiming or killing of rookies, nor does it include slipping any sorts of poisons into their juice."
NOTES I lied. She's not going to behave at all.
TAGGED Patience
OUTFIT Outfit, camisole under top (so it's not like too much cleavage), necklace, boots, purse.
CREDITS  You Give Love A Bad Name - Bon Jovi ~ Template by Doe-Eyed Harlot of Caution.
___________________________________________________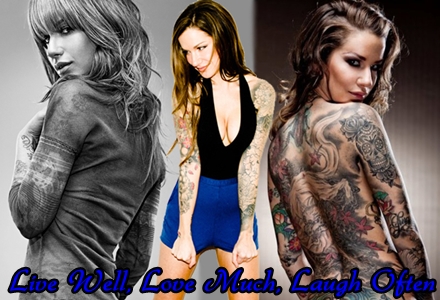 "You will eventually get drunk, the only reason no body sees Agent Romanov drunk is because if anyone tries drinking with her, they die a gruesome death." Patience said frowning with disbelief at what was happening and that she was not dragging Svetlana out of this bar while thinking up of creative accidents that could possiblely happen For some reason, Patience was playing along with Svetlana and actually sort of intended to get a drink, Patience was sure she could handle anything she drank, it was not like she would be the one to blab out secrets of SHIELD or more importantly HYDRA. She was too well controlled for that sort of nonsense.



"I believe so, Director Fury called me in a few days ago to inform me that I would be handling Maria's work for as long as her vacation." Patience said with a slight smile at the thought of Maria and Couslon being together. Patience was slightly attracted to Coulson, her former training agent, but at the same time she was glad Maria and Coulson got together. They suited each other, and Patience felt a slight bit of guilt, seeing that HYDRA would likely kill them both soon enough when Project INSIGHT is complete and up int he sky. Patience felt guilty, she knew alot of her friends would die due to the project, but global peace and stability was more important.

"Let me see." Patience said with her voice dripping with sarcasm as she brought up her phone and pretended to look through a calendar. "According to this calendar, fun that does not involve that sort of thing is not listed anywhere in it, thus I would have to respond with a since never?" Truth be told, the last time she had loosened up, it was quite a long time ago.
shot through the heart & you're to blame
DARLING YOU GIVE LOVE A BAD NAME
- - - - - - - - - - - - - - - - - - - - - - - - - - - - - - - - - - - - - -
Her cheeks flushed from the dancing, Svetlana swiveled on her chair to face the bartender and flashed him a brilliant smile. "Two tequilas and a beer please. Whatever the best tasting beer is, I don't really differentiate between them. It's for the princess over here," she added with a nod at Patience and a grin, sliding her eftpos card across the bar at him. Absentmindedly punching in her pin, she turned to the blonde and studied her for a long moment. She couldn't understand why the woman was still single. Well, she could because Patience's personality was an extremely acquired taste, but ignoring that little fact, she was gorgeous. If only she didn't kick up such a fuss every time Svetlana tried to drag her out, she would have long managed to find herself someone. Probably not for much longer than a night, but the brunette figured that even one night of fun could lift the woman's usually grumpy mood.
"Ok, so, don't kill me, but I feel like I have to ask: when was the last time you saw some action, sugar?" she asked, downing the first tequila shot when it was slid over to her, not bothering with salt or the lemon wedge. She slid the beer over to Patience and pulled the second shot towards her, but didn't drink it just yet. "Like proper action. Stay-up-all-night mindblowing action." She nonchalantly looked out into the dance crowd, eyes lingering on two ravishing females, before tearing her gaze away and looking back to Patience. "Because if the last time you had fun was, and I quote "since never", you need to break your dry spell for the sake of your sanity. No one likes a killjoy. And I say that with all the coworker affection that I can muster."
NOTES I apologize for Sveta's behaviour. I told her to be good, but she can't. I tried to get her to be less crude, but it didn't work.
TAGGED @Patience Moran
OUTFIT Outfit, camisole under top (so it's not like too much cleavage), necklace, boots, purse.
CREDITS  You Give Love A Bad Name - Bon Jovi ~ Template by Doe-Eyed Harlot of Caution.

Patience rolled hers eyes at Svetlana's comments, especially the princess one. Part of Patience wanted to strangle Svetlana this very second, but there were too many witnesses and it would be a tad bit difficult explaining to others why she strangled Svetlana. It turns out being annoyed is not proper justification for murder. Patience was certainly less than amused at being called a princess, and if Svetlana was not her friend, witness be damned, the person would suffer an unfortunate end.

Patience was already rolling her eyes when Svetlana asked her question which caused Patience's mind to briefly blank, trying to process whether Svetlana actually asked her that question. Patience was glad she did not try drinking the beer Svetlana had ordered for her yet, since Patience was pretty sure that if she was drinking it, she would have likely have spitted out her drink in shock of being asked such a question.

"Does spending all night interrogating some unfortunate loser with power tools count?" Patience voice dripped with sarcasm as she picked up the beer Svetlana had ordered. Patience perfectly understood what Svetlana's question had meant but she was not going to answer it, that was none of Svetlana's business, or more truthfully, Patience could not really remember when.

After staring at her beer for a few moments, Patience decided to take a sip. Patience didn't usually drink alcohol, she preferred to be sober most of the time, but she did enjoy alcohol in private from time to time. Patience had to admit she never really dealt with alcohol well, but she was sure one or two beers would not be enough for her to make a fool out of herself.




    TAG:   | WORDS: 282 | NOTES:


---
Permissions in this forum:
You
cannot
reply to topics in this forum